Investor Overview
Investor Relations
At Pitney Bowes, we continue to transform and shift our portfolio to growth markets around shipping while continuing to innovate in our core mailing business and offering financing options across the business.
Data as of 12/01/22 4:22 AM EST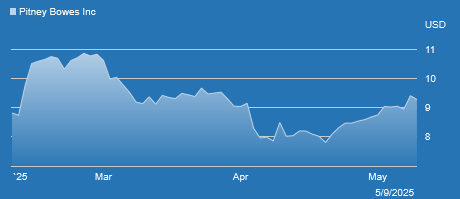 Data Provided by Refinitiv. Minimum 15 minutes delayed.
Investing in Pitney Bowes
2021 Annual Report

2021 Form 10-K

2022 Proxy Statement

Historical Segment Financials

Corporate Responsibility
Upcoming Events
More events are coming soon.
Recent Events
Tuesday, November 29, 2022 at 1:30 PM EST
Tuesday, November 1, 2022 at 8:00 AM EDT
Wednesday, September 28, 2022
Description
We are pleased to be hosting the Pitney Bowes Facility Site Tour of our Global Ecommerce (Ontario, California) and Presort Services (Los Angeles, California)
facilities on Wednesday, September 28, 2022.
This will be an excellent opportunity to meet members of our senior management team, including Marc Lautenbach (CEO and President), Gregg Zegras (EVP and
President, Global Ecommerce) and Debbie Pfeiffer (President, Presort Services), who will be on hand for brief presentations as well as Q&A. You will also have
the opportunity to interact with Pitney Bowes facilities managers as well.
To plan for your participation, we kindly ask that you follow this link to complete a formal registration for the event. Upon
completion, you will also receive additional information about the day's activities. A preliminary Agenda is outlined below which may be helpful in your travel
planning:
Tuesday, September 27th:
3pm – 6pm: Attendee Arrivals into Ontario, California
6pm – 8pm: Evening Hospitality with the Pitney Bowes Team
Wednesday, September 28th:
10am – 11:30am: GEC Facility Site Tour
11:30am – 1:30pm: Lunch & Group Transportation to Presort Facility
1:30pm – 3pm: Presort Facility Site Tour
3pm: Attendee Departures
A few additional notes:
We recommend traveling into Ontario, CA (ONT) and departing from John Wayne Airport (SNA) or Long Beach Airport (LGB)
The distance between sites is approximately 90 minutes and we will organize transportation from the GEC facility to our Presort facility. You have the option of attending only one or both sites and can indicate your preference during registration.
We look forward to seeing you in California and showcasing the innovation and technology at both our Global Ecommerce and Presort Services Facilities.