Investor Overview
Investor Relations
At Pitney Bowes, we continue to transform and shift our portfolio to growth markets around shipping while continuing to innovate in our core mailing business and offering financing options across the business.
Data as of 04/22/21 11:48 AM EDT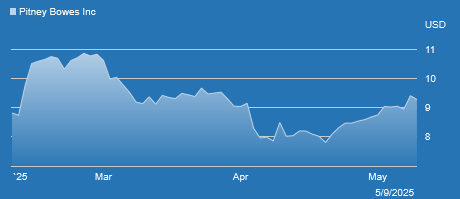 Data Provided by Refinitiv. Minimum 15 minutes delayed.
Investing in Pitney Bowes
2020 Annual Report

2021 Proxy Statement

2020 Form 10-K

Corporate Responsibility
Upcoming Events
Q1 2021 Pitney Bowes Earnings Conference Call
Friday, April 30, 2021 at 8:00 AM EDT
Pitney Bowes Annual Shareholders Meeting
Monday, May 3, 2021 at 9:00 AM EDT
Description
In light of COVID-19 and to assist in protecting the health and well-being of the company's shareholders, employees and representatives, the meeting will be conducted in virtual format only Shareholders of record as of the close of business on March 5, 2021 will be able to vote and ask questions during the meeting.