Investor Overview
Pitney Bowes continues to transform and shift its portfolio to higher-growth markets, including ecommerce, shipping, software and data, while continuing to innovate in our core mailing business.
Pitney Bowes > Forward Video Series
Powering Business Through Financial Services featuring Christopher Johnson, President, Global Financial Services
Pitney Bowes New Fulfillment, Delivery and Returns Super Center in Greenwood, Indiana
Pitney Bowes Commerce Services: Growth engine featuring Lila Snyder, President, Commerce Services
Delivering new value to SMB clients featuring Jason Dies, President, SMB Solutions
Data as of 02/22/20 12:58 AM EST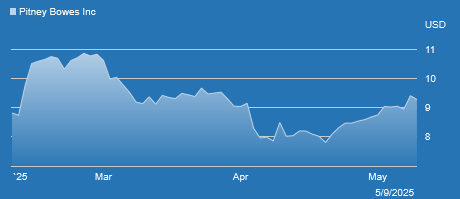 Copyright West LLC. Minimum 15 minutes delayed.
Investing in Pitney Bowes
2019 Form 10-K

Fast Facts

Corporate Responsibility
Upcoming Events
Pitney Bowes at the Sidoti & Co Investor Conference
Thursday, March 26, 2020
Marriott Marquis Time Square, NYC